THE STORY BEHIND THIS INCREDIBLE
PIECE OF BEATLES' HISTORY…
BOB EUBANKS and the BEATLES
…Press Conference at the Cinnamon Cinder
August 23, 1964
In the early 60s, Bob Eubanks worked as a radio dee jay on KRLA, a local Los Angeles station. The first Beatles record he ever heard was "Please, Please Me." Beatlemania was beginning to spread and the folks at KRLA could feel a change brewing in the music industry.
Bob admits he wasn't the greatest at predicting hits, but he had a keen business sense. He knew that he wanted to do something with this group called The Beatles.
That 'something' eventually turned Bob into a concert promoter. With a partner and a second mortgage on his house, Bob Eubanks became one of only six people to promote and finance a Beatles concert during all three of their North American tours. The Hollywood Bowl for one night in 1964… the Hollywood Bowl for two nights in 1965… and Dodger Stadium for two nights in 1966.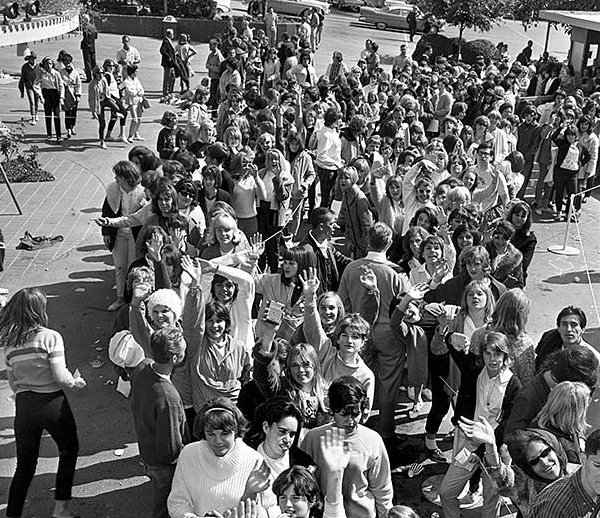 …wait in line to buy a ticket to see the Beatles at the Hollywood Bowl in 1964. The line stretches for almost a mile.

In 1964, there was no Ticketmaster. Tickets to see the Beatles could only be purchased at the box office, Automobile Club of Southern California offices, or at Wallich's Music City stores. In 1965 there was only one way to buy a ticket… by mail. Bob took out a full-page ad in the Los Angeles Times featuring a large photo of the Beatles performing at the 1964 concert with a small form at the bottom of the page. Fans could fill out the form, put it in an envelope with their money, and mail it to the Hollywood Bowl.
To commemorate the 50th anniversary of the Beatles arrival in America, Bob decided to create a poster of the Los Angeles Times advertisement in a limited edition of 1,000. This poster edition is the ONLY one of its kind. There were never any official posters printed in 1964 or 1965 for the Beatles Hollywood Bowl concerts. Each poster is certain to become a collector's item. This is a unique piece of Beatles history you'll be proud to own!
The poster measures approximately 15" x 20.5" and is printed on high-quality, heavy poster stock. Each uniquely numbered poster is signed by Bob after your order is received, and personalized per your request.
Each poster comes with its own number-specific Certificate of Authenticity.
After the initial offering of 1,000, no more posters will be printed or sold. Buy one for yourself or give one as a gift before they're gone!
$75 (includes shipping & handling)